Columbo or EZ-Mouse is Shorty's pet mouse that was a gift from her parents, whom she keeps in her chest pocket or above her head while dancing. Can be unlocked by using Shorty in medium or higher difficulty option.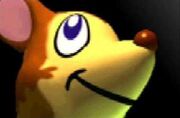 Age: ?
Height: 33 cm
Weight: 1 kg
Dance Styles: Same as Shorty
Jammer Type: Same as Shorty except the Giant Cake, it's replaced with Giant Pudding.
Columbo will jump out of Shorty's pocket and dance with her if the player's level seven freeze is successful.
Ad blocker interference detected!
Wikia is a free-to-use site that makes money from advertising. We have a modified experience for viewers using ad blockers

Wikia is not accessible if you've made further modifications. Remove the custom ad blocker rule(s) and the page will load as expected.